Roberto Celi , Reggio E. born in 1964.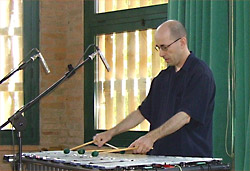 He has a degree in sociology, he is vibe player, percussionist, composer and arranger.
Ever keen on music He studied jazz drums in Cepam music school in his town and played drums in many cover bands.
He discovered the fascinating sound of vibraphone and its wide expression range fixing to start the study in Musician School in Reggio Emilia and with Maestro Daniele Di Gregorio in Modern Music School in Modena.
In 1997 he passed at Conservatoire examination in La Spezia about music theory, beginning to play as soloist his own pieces and various composers.
In 1999 he started a collaboration with Brychan (Welsh artist) accomplishing three cd, radio transmissions, tv apparition and many concerts in places and theatres everywhere in Italy.
In 2002 He participated in Votiva Lux instrumental record "Solaris".
In 2005 he got back soloist and was present in "Cattivi Maestri" show in Modena.
In 2006 he participated in Moltheni songwriter record "Toilette Memoria". During the year he produced his first instrumental cd "Vibrando" consisting of four pieces personally composed and arranged. Here the vibe sound is bring out developed in special harmonic environments.
"Vibrando" is finalist in Italian Toast MEI 2006 award.
In the meantime he frequented a Conservatoire master classes in Fermo about harmonization and improvisation with Maestro Andrea Dulbecco and about marimba and vibraphone with Maestro Ivana Bilic.
In 2007 He produced "Clouds by fire" his instrumental and acoustic second cd almost completely consisting of cover pieces. The tracks list has been influenced by the music direction He always follow and count also Bowie and Beatles. Other musicians have shared in the recording but remarkably Antonella Mazza on electric bass.
In september 2007, during the fifth edition of the international days of percussion, he frequented a Conservatoire masterclass in Fermo about marimba with Maestro L.H.Stevens.
He has many reviews on music websites.
In November 2008 he performed a vibe solo concert in the magnificent "Auditorium Biblioteca multimediale Loria" in Carpi (MO). The live was a part of a great instrumental and musical language review organized by the Loria multimedia library.
In 2009 he produced <Live in Loria> live cd from that event.
In november 2009 he produced an amazing videoclip from the Inside or you track directed by the italian videomaker Graziano Staino.
In July 2010 he performed a vibe solo concert in "Ekidna" Carpi (MO) called "Sounds from the night".
He meant vibraphone as a contemporary instrument for music expression in different times and styles. Only private events at present.